I am of course referring to the weather and not the event itself.
On Friday we headed off to west Dorset to a Chilli and Pumpkin party held at River Cottage. The weather couldn't have been worse, with lashing rain and gale force winds coming off the sea. Luckily we had a big bag of Minstrels to keep our spirits up, as we battled our way across the hills to Axminster.
When we arrived, we changed into our wellies and I donned my hat adorned with chillies. We made our way to the tractor and trailer, which carried us through the storm down to the farm and to the party which awaited us, where we were met by a couple of fire jugglers and a glass of lemon punch with a twist of chilli.
The courtyard was a lovely site with stalls lit with strings of lights but as the night wore on the weather took a turn for the worst (almost impossible I know) and those brave enough or daft enough joined Hugh outside with a TV crew, guessing the weight of an enormous pumpkin.
Pumpkin Hoopla
I think most people had gone into the barn for food and shelter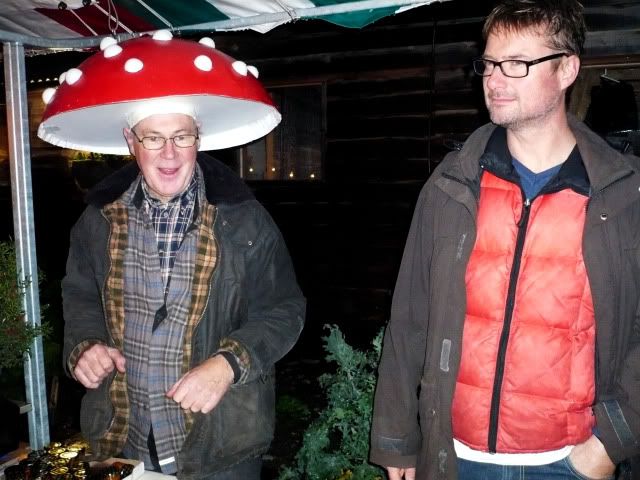 John Wright and Steve Lamb manning a stall with an extremely hot lamb chilli dish
Although outside was wet and windy, inside the barn was warm and cosy and the river cottage chefs served up absolutely delicious food. I had shin of beef served with soy, ginger and noodles. Topped off with roasted pumpkin, and chilli corn bread, served by Hugh. Andy had a pumpkin stew, which sounded equally lovely.
Hugh with a silly hat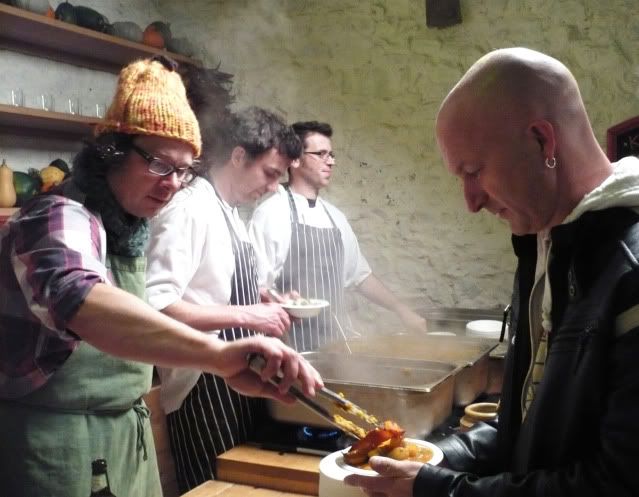 Hugh serving roasted pumpkin to Andy

I have been to River Cottage quite a lot this year. It really is a lovely place to visit and the people that work there, put in a lot of effort into making sure that you enjoy your visit. I have met Hugh a couple of times, been interviewed on his television programme and had my photo taken with him and I can honestly say he really comes across as being a lovely caring person. Not only about the environment but also about the people who visit River Cottage.

If you get a chance, go to one of the open days next year. You can find the details on the river cottage website. I for one will be giving it a rest for a little while and give someone else a turn.