After a week of wet weather, it was really lovely to get out into the fresh air and enjoy last warm rays of sun today.

I trimmed back the flowers from the lavender but didn't go into the foliage; I thought I would save that job until the Spring.
I had planted some seeds early in the summer in a small patch of spare earth but the climbing beans took too much of the light and the plants didn't take off. After the beans had finished the seedlings soaked up the new light and are now flowering. It's a bit of a dogs dinner as I couldn't reach the seedlings to thin them out but now at the end of the summer, the flowers are looking quite fresh whilst everything else is fading.
Corncockle

Cosmos
Behind the Cosmos

Cosmos bud

With the light so much softer now, it's an ideal time to photograph outside and I couldn't resist tiptoeing through the purple sprouting broccoli to get to the back of the cosmos to capture it.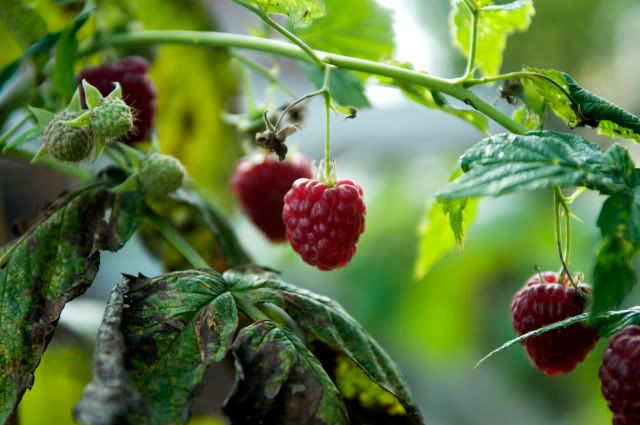 The raspberries have been absolutely fantastic this year. I have made two batches of jam plus I have some in the freezer to make another lot, when our new kitchen has been installed. They have been fruiting since July and if the frosts keep away I still have more to pick.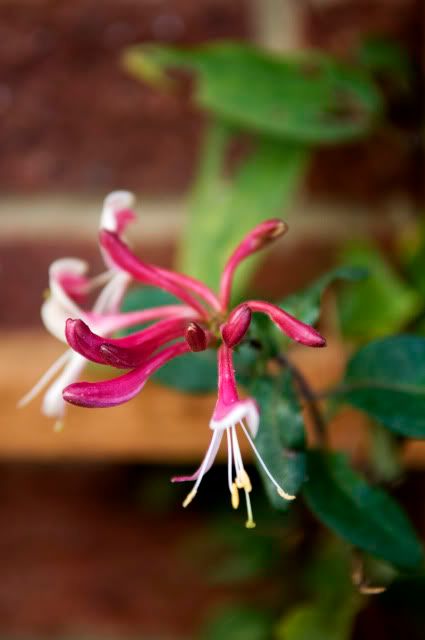 Honeysuckle

Dahlia loved by the earwigs

The dahlias and the honeysuckle are still flowering. Looking rather tatty but with all those months ahead of us with very little in the way of flowers to cheer us up, I am enjoying this moment for all its worth.